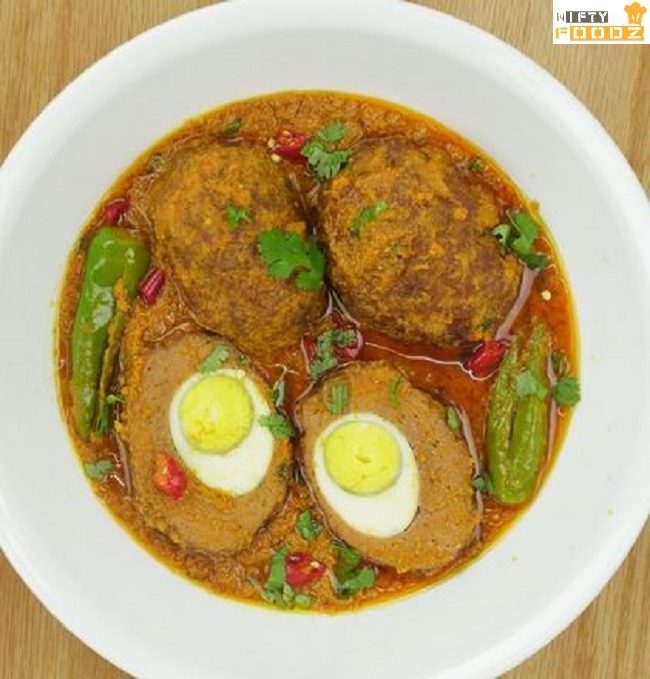 Serves: 7 People
Prep Time: 20 Minutes
Cooking: 30 Minutes
Calories: 593
Difficulty: easy
Print
Nargisi Kofta is a wonderful meatball recipe with egg stuffing. Nargisi kofta is an all time favorite dish of Pakistani families. Mughlai cuisine consisted a list of dishes developed at the time of Mughal empire in India. Nargisi kofta is one of those rich exotic mughlai recipe, a combination of minced meat and boiled eggs. The dish is named after nargisi flower also known as narcissus flower. When you slice open the nargisi kofta it resembles the flower. Chicken nargisi kofta is essentially an Indian style scotch eggs curry.
This dish may sound complicated, but it is actually fairly simple to make. Koftas are basically meatballs and hard boiled eggs are encased in these meatballs. Add nargisi kofta to a dinner party menu and friends will think you cooked all day to prepare it for them. It is widely popular Pakistan recipe and is eaten with great delight. Nargisi koftas are full of protein and a very healthy dish for youngsters and adults alike. Here I am sharing with you recipe of Pakistani style nargisi kofta, make sure to try it.
Ingredients
Directions
In a chopper add mince, onion, gram flour, red chili powder, green chilies, ginger garlic paste, fresh coriander, mint, salt, coriander powder, fried onion and chop till everything well combined.
Take the mixture out of chopper and mix in it ghee or butter.
Now wet your hands with water, take mince mixture and flatten it on your palm.
Put a boiled egg in this flatten mixture and then completely cover the mince mixture around the egg. Remember there should not be any crack in the coating and we need a thick layer of mixture over egg.
Repeat the same process with complete mixture and eggs.
In a wok heat cooking oil over medium flame and fry koftas from all sides for 3-4 minutes. We just need to seal the koftas at this stage they will be completely cooked later on in gravy.
____________________For Gravy_________________
Add oil in a pan and put in ginger garlic paste.
Fry till a nice aroma came of it and then add tomato puree and fried onions in it.
Cook it till the oil separates from the gravy.
Now add garam masala powder, red chili powder, turmeric, coriander powder, cumin powder, black pepper powder and stir fry the masala for 1 minute.
Now slow the flame and add yogurt in it mix it and cook it for 4-5 minutes.
Add fried koftas and green chilies, cover the pan and let these cook on slow flame for 10-12 minutes or until cooked and oil separates.
uncover the pan and finely add fenugreek and fresh coriander for garnish.
Nargisi koftas are ready to be served with roti or chapati.
You may also like