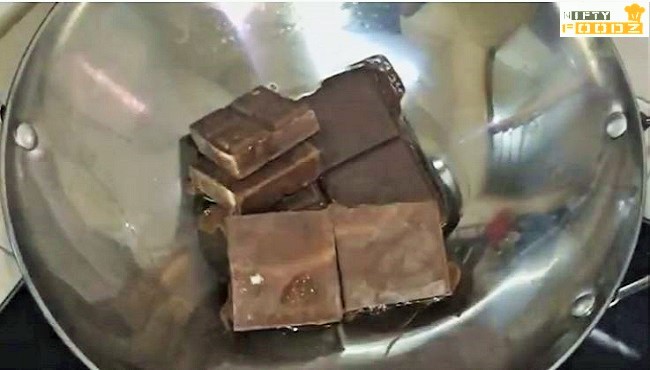 Serves: 5 People
Prep Time: 10 Minutes
Cooking: 30 Minutes
Calories: 235
Difficulty: easy
Print
Oreos have been one of my favorite cookies for probably forever. I absolutely love them. The filling is the best part. I don't even bother eating a regular Oreo.
This recipe of oreo cake is for celebrations and celebrations only do not include nutrition facts. This cake is a chocolate lover's paradise. Sweet tooth central. This is one of the easiest without egg and without oven ore cake that anyone can make.
Ingredients
Directions
Take a big pan and spread some salt in its bottom.
Put a wire stand/ steel plate in it, cover it and let it pre heat on slow flame for 10 minutes.
Now prepare the cake batter.
Separate cream and oreos in 2 different bowls.
Grind the biscuits into a fine powder.
Add milk, baking powder and oreo cream that we separated earlier in the grinned biscuits.
Mix well till everything combined a smooth mixture formed.
Grease the baking pan and line with a butter paper. Grease the butter paper as well.
Pour the cake batter into the pan and tap it one to two times on the work surface so that air bubbles should release.
Put the cake in pre heated big pan and cover the pan again. (Make sure that steam should not release from pot.
Let the cake bake on slow flame for 25- 30 minutes or until a tooth pick inserted in the center comes out clean.
Take the cake out and let it rest in the pan till it came to the room temperature.
Now prepare the chocolate ganache.
In a pan add oil and 1 chocolate bar.
Let the chocolate melt on very slow flame.
When it melts completely add milk in it.
Whisk continuously till a smooth mixture. Turn off the flame and let the ganache cool down a little bit.
Now take the cake ou of baking pan on a wire rack and remove the butter paper from bottom.
Carefully pour the chocolate ganache over the cake.
Top it with some some shaved chocolate. (You can even add nuts/dry fruits if you like).
You may also like