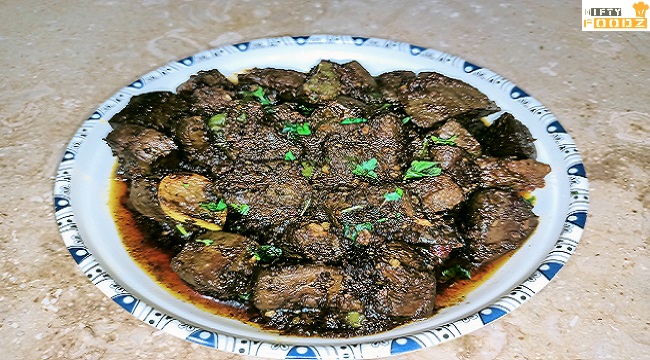 Serves: 4 People
Prep Time: 10 Minutes
Cooking: 15 Minutes
Calories: 1025
Difficulty: easy
Print

Tawa Kaleji or Tawa kaleji masala is a dhaba style liver cooking recipe on a griddle with very few spices. Tawa fry kaleji is a traditional dish of Muslims in the Indian subcontinent and is a popular street food in Lahore. The meaning of tawa fry kaleji is cooking the liver on a cast iron griddle. This is usually the first dish prepared in the home of every Muslim on the occasion of Eid-ul-Adha or Qurbani, as it is a quick and easy stir fry recipe which is specially prepared with fresh meat. This dish is even more popular with chicken liver because it is cheaper when purchased in bulk and is more acceptable for urban palates and children.
In the childhood I always ate the spicy mutton liver that my mother made but never knew what kaleji means. Like most children and many adults, I was troubled by the thought of eating liver when I finally realized what I was eating. I stopped eating kaleji until I started cooking in the kitchen myself. Then I started reading about the properties and health benefits of different ingredients.
I found that most animal meat contain small amounts of vitamin B12, but the liver is the best and most concentrated source of this vitamin. Lack of vitamin B12 in our bodies results in a number of disorders of the nervous system like difficulty in concentrating and memorizing, restlessness, numbness in the limbs, loss of balance and depression. Compared to carrots and apples (which are rich sources of micro nutrients), meat and especially kaleji (liver) contains lot of nutrients.
A popular myth is that the liver is not edible because it accumulates toxins in the body. The fact is that the liver's role is to neutralize toxins, but it does not store them. It is full of protein which helps maintain and build body tissues, muscles, hair and nails. Moderate use of the liver (once or twice in fortnight) is beneficial for health as it has a nutritional profile. This is an overdose that can be harmful due to the amount of cholesterol. Patients with liver stones should avoid eating liver a lot.
Today I am sharing Peshawari tawa kaleji recipe that is a famous street food of Obaid Hotel board bazar Peshawar. This is a 15 minutes tawa fry kaleji recipe and involves very few spices with a unique taste.
Ingredients
Directions
On a griddle (tawa) add ghee or cooking oil and heat it on medium flame.

Add chopped garlic in it stir it and quickly add the liver (kaleji) in it. Fry the kaleji on medium flame for 6-7 minutes on medium flame.

Add tomato puree and fry kaleji for another 3-4 minutes.

Now add turmeric powder, red chili powder, chili flakes, coriander powder and fry for a minute.

Pour water in kaleji, cover the griddle (tawa) and let the kaleji cook on medium to low flame so that it could get completely tender. Cook for almost 6-8 minutes.

Uncover and kaleji, turn the flame to medium and add chopped green chilies in kaleji along with sliced lemon. Mix well.

Add crushed black peppers and chopped fresh coriander, mix well.

Lastly add salt and combine.

Peshawari style tawa fry kaleji is ready to serve.

_______ Note: To remove odor from kaleji (liver) rub crushed garlic on it and leave it for 30 minutes. Then wash it and cook it.

Do not add too much water in kaleji as it will make kaleji chewy. Also the same goes with too much cooking kaleji, as much as you will cook it, kaleji will turn chewy.
You may also like